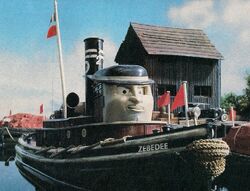 Zeebee
Affiliation: Zero Fleet
Number: 2
Type: Harbour Tug
"Steamer, you're not supposed to be in the harbor!"
Zeebee, Taking my Turn
Z.B. is a confused Zero Tug. He is Captain Zero's second tug and Zorran's right hand tug.
Bio
[
]
Z.B. is used for a variety of tasks around Snugboat Harbor. Like the other Zeros, Z.B. is based on the NYC Moran Fleet tugs from the 1920's. His personality resembles Shemp Howard. Zeebee is one of the more complex TUGS characters, an easy-going tug who winds up the Star Fleet for a reason or another. In Salty's Lighthouse, Z.B. is much more friendly than in TUGS, and he never hesitates to help the Star Fleet.
Trivia
[
]
His model was sold to The Star Tugs Trust.
In TUGS, his full name was Zebedee. Sometimes, he was called "Zeb" for short, and was sometimes called "Zebby" by Johnny Cuba, the original Steamer. He was a Z-Stack at heart, although in High Winds, his soft side was shown when he helped Ten Cents, Sunshine and the rest of the Star Fleet, and had a Liverpudlian accent.
Despite being renamed, his name on his hull is left uncensored.
Voice Actors
[
]