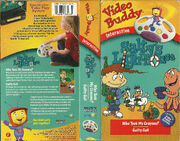 Who Took My Crayons? - When Salty loses his crayons, and Ten Cents loses his engine parts, the blaming begins. Once they realize the other tugboats and Lighthouse friends didn't take their missing things, they apologize. Luckily their friends forgive, forget and get on with a great day of play.
Guilty Gull - While painting masterpieces, the Lighthouse gang learns it's important to be careful too. Salty finds out he needs the facts before accusing Sophie of making a mess, and in the end everyone enjoys painting pictures together.
-Who took my crayons 
-Guilty Gull
Community content is available under
CC-BY-SA
unless otherwise noted.