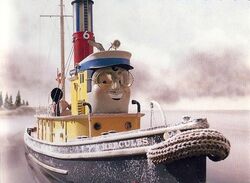 Hercules
Affiliation: Star Fleet
Number: 6
Type: Ocean-going Tug
"That Rule hasent been used for years!" 
Hercules, Boss man
Hercules is Captain Star's largest vessel, an ocean-going tug who is often used for large-scale operations and important contracts. During periods of bad weather he is out at sea answering distress calls, and is often sent out to escort large vessels into the port. He is often considered to be one of the fleet's main leaders, and is often placed in charge of large operations. He is also Represented as Ten Cent's brother.
Behind the Scenes
Edit
Like the rest of the Star Fleet, Hercules is based on the tugs of San Francisco waters from the 1920's. He shares his name with the commonly known Roman mythological figure, Hercules, although he may have been named after the well-known British war vessel, HMS Hercules. The most likely basis for his name however is the Ocean-Going Tug Hercules , an actual vessel from 1907 with an identical hull and superstructure, based in San Francisco, the same city on which "TUGS"' crew drew inspiration for the Star Fleet.
His model spans 36 inches long
Character-wise, Hercules is a cool-headed fighter. Nothing can break him and not even the antics of the Zero Fleet and Bluenose can set him back. He is held in high regard by most of the tugs in the harbor, and even Zorran knows that he cannot win a confrontation with Hercules! Hercules is famously known for referring to his fellow Star Tugs as "ma' dears", "darling" and "sweet-heart". He is the only TUGS character to have sideburns, and one of the few to have hair underneath his hat for that matter. He is recognized for his 'discreet' relationship with Lillie Lightship, and his 'lady's man' persona.
Voice Actors
Edit
His model was sold to The Star TUGS Trust.
Ten Cents and Sunshine look up to him as an older brother.
Community content is available under
CC-BY-SA
unless otherwise noted.