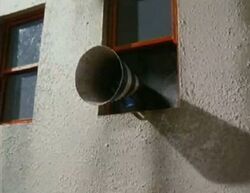 Captain Star
Affiliation: Star Fleet
Type: Human
Captain Star is the captain and quite obviously owner of the Star Fleet.
She always appears as a loudhailer in the window of The Star Dock building. She takes great pride in his fleet, but she knows that it is important to be hard on them in order to succeed. She is usually very strict if something doesn't go as shipshape as it's supposed to.
She has seven tugs and one un-numbered submarine within her fleet. They are as follows: Ten Cents (1), Big Stack (2), Otis (3), Top Hat (4), Warrior (5), Hercules (6), Sunshine (7), and Grampus (submarine).
It is unknown if Captain Star is actually a human or just a megaphone sticking out of a building, for she is never seen in person. Like other characters such as Captain Zero, Captain Star was never even said to be a human and was never seen as one. It is however unknown that in the planned future series, she and the other characters would be seen in person.
In TUGS, Captain Star was potrayed as a male character along with Sunshine and Little Ditcher.
Voice Actors
Edit
Community content is available under
CC-BY-SA
unless otherwise noted.