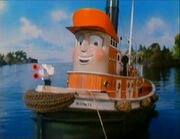 "Just bad luck strikes again!"
Boomer, Some Guys Have all the Luck
Boomer was found floating adrift in the estuary in the, by Ten Cents and Sunshine, where he revealed to the switchers that he was a jinx, which Ten Cents was very skeptical about. However after many incidents Sunshine made Ten Cents suspect that the jinx may be true. After he was repaired at Lucky's Yard, Captain Stardecided that Boomer was to become a house boat. He now resides at an up river jetty labelled 'Dun Tuggin', where he can relax all day, and the jinx has finally left him.
Voice Actors
[
]
Lee Cornes (TUGS)
Scott McNeil (Salty's Lighthouse)
Trivia
[
]
Boomer's name was originally named Captain Harry.
Boomer's model is shared with Sea Rogue's Uncle.
Boomer's model makes an appearance in Up River, although he was retired at that time.
His model was sold to The Star Tugs Trust, albeit missing his face mask. The face and hat of Sea Rogue's Uncle is currently on the model, The organisation is determining whether to attempt to remake Boomer's face mask.